Updating your bathroom will make it more appealing and functional. You can also invest in upgrades that will improve the safety of this room, especially because of your aging loved ones. Moreover, creating a budget is usually one of the most crucial steps of the planning process of any home remodeling project. Careful planning is key to minimize unexpected expenses and delays during your remodel.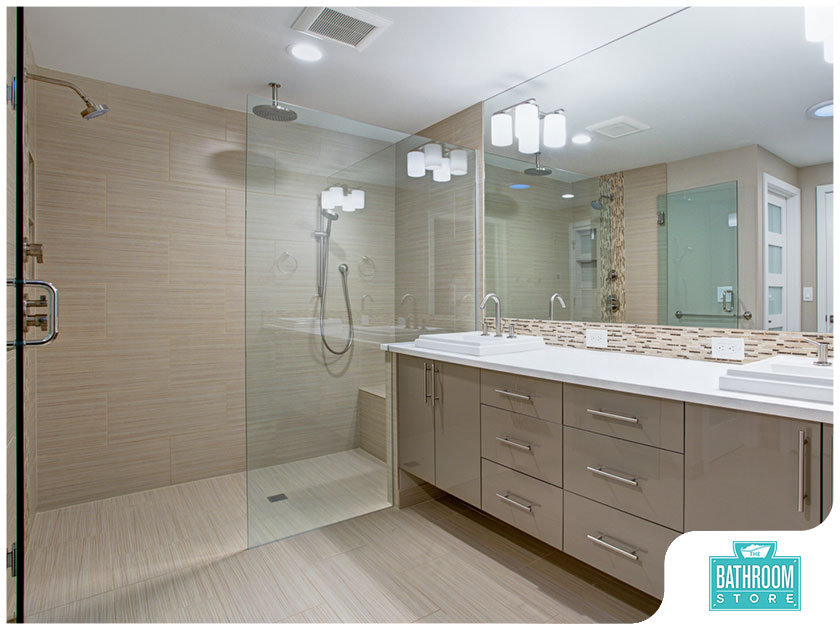 Keep reading for tips on how to stay on budget and keep your bathroom remodel affordable.
The Finish of Your Fixtures Matters
It may help to know that specialty fixes, such as brushed nickel and champagne bronze, tend to cost more. They will also affect or even reduce your options for other bathroom essentials, such as shower doors, lights, and towel bars, which typically come in limited finish selections. These special finishes may appear different, depending on the brand. Chrome fixtures are definitely something to consider because they will help you stay on your budget without compromising style.
Pay Attention to Your Material Selection
Reputable brands usually offer more cost-effective but durable material options for your bath renovation. Invest in materials that are durable, long-lasting, easy to maintain, and tough enough to handle everyday wear and tear. Materials with a long lifespan and low maintenance requirements are usually more cost-effective in the long run.
Always be careful of deals from unestablished brands that are too good to be true. They may not have the correct fittings you need and their products may not also meet local codes. Moreover, when hiring a contractor, ask about the lines of products they are offering.
Maintain the Layout of Your Bathroom
Among the easiest ways to keep your bathroom remodel affordable is to work with the space's existing layout. A new bathroom layout can mean significant electrical and plumbing changes, leading to unexpected expenses. Depending on how old your house is, you may also need to bring all of the electrical wirings in your bathroom up to the current code, increasing the cost of your budget. Even simply changing the location of your toilet or sink can make you go beyond your budget.
Select a Durable Flooring Material
As much as possible, go for a flooring material that's easy to maintain, durable, and water-resistant. If you are considering porcelain tiles or hardwood for your remodel, think about getting luxury vinyl tiles. This flooring option resembles the look of natural wood and porcelain tiles but comes at a lower cost. It is also extremely durable and low-maintenance.
Choose and Use Your Tiles Wisely
Researching goes a long way when deciding which tile material to go for your bath renovation. Choose a durable tile option with color body. It is where the face of the tile is the same as its body, resulting in polished edges and lower-cost trim pieces.
The tile pattern you choose also matters because some require more labor than others, such as basketweave and herringbone. The more work your tile installation requires, the higher your project costs will be. Moreover, if you are planning to get accent tiles, make sure to have them installed in an area where they will look more visually appealing. An experienced remodeler can help you choose the best location for your accent tiles.
Make the Most of What You Have
You don't always need to start from scratch when remodeling a bathroom. Recycling or refurbishing existing elements can help you save a lot on your remodel. For instance, instead of completely replacing cabinets, your current ones have a fresh coat of paint and new handles. Make your vanity look brand new by repainting and investing in quality and chic countertops. Utilizing more of what you already have is a smart way to save on your remodeling costs.
Focus on Your Bathroom's Wet Area
The wet area refers to the part of your bathroom where the tub, shower, floors, and walls are. They are among the most important components of this part of your home. You need to make more careful selections when it comes to this area to ensure they are free from mold and mildew growth and to avoid water damage.
Typically, the wet area requires the most work in bathrooms. Fortunately, many modern bathroom products are made to withstand constant water exposure, and some even do a great job at resisting mold and mildew. Replacing the fixtures in your wet area will boost the functionality and appeal of your bathroom. For quality tub and shower installation services, you can always depend on The Bathroom Store.
Cost-Effective Wet Area Remodeling Projects to Consider
Convert Your Tub to a Shower
A tub-to-shower conversion will help you make the most of your bathroom's space. Letting go of your outdated or unused tub and replacing it with a well-functioning shower will do wonders for the functionality of your bathroom and your home's value.
Get a New Tub
A new, stylish bathtub can become the focal point of your bathroom. Replacing your tub is an easy way to transform the look of your space.
Replace Your Shower
Your shower can also be an eye-catching feature in bathrooms. You'll notice a significant improvement in your space once you replace your old one. Make sure to choose water-resistant, durable, and low-maintenance products for your new shower, so it is easier to clean.
Consider a Walk-In Shower
Another upgrade you should consider is a walk-in shower. When remodeling your bathroom, you should factor in accessibility. You can add safety features, such as non-slip tiles, grab handles, and a seat to make this feature ideal for your aging loved ones or family members with mobility issues.
Replace the Surrounding Walls
Another feature that will give your bathroom a total refresh is a new wall surround. It is also an easy upgrade that can give you a high return on your investment. Just make sure to choose high-quality and durable materials.
Plan your project with The Bathroom Store today! We specialize in bathroom renovations, shower installation, and more! Call us at (701) 223-1008 or fill out our contact form to get a free estimate.